Electrical Panel Installation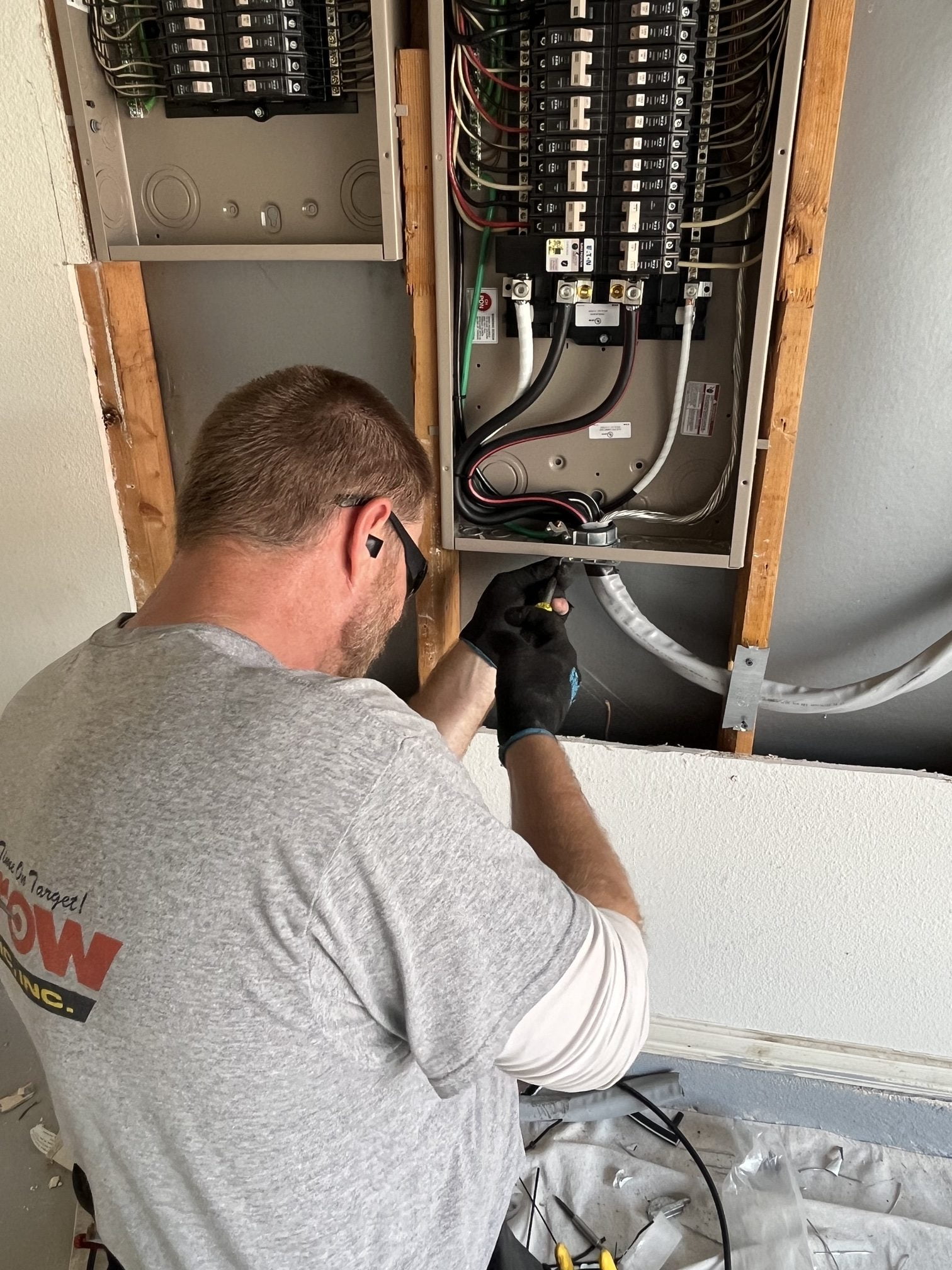 Arrow Electric Installs Electrical Panel in Dallas-Fort Worth!
Need an Electrical Panel Installation? First, think about how many devices are in your home. Consider everything from TVs and appliances to smartphones and PCs. All of your home devices depend on your electrical system. Therefore, checking whether your electrical panel can handle everything connected to your home is crucial. Additionally, your home devices should be checked for secure and proper connections. Call Arrow Electric today and allow us to inspect your electrical panel, evaluating for your and your home's safety. 
When you work with our company, we begin with a free panel estimate for each customer's unique situation. Additionally, we offer a lifetime warranty on our panels, surge protection, competitive pricing, and a 100% satisfaction guarantee! Furthermore, our estimates remain valid for 90 days, allowing you to choose the best timeframe based on your individual needs. 
Whether you need to replace an old panel or want to upgrade your breaker box, our residential electricians are the professionals you can trust.
You're in the right place if you are considering a Sub-Panel installation. We handle it all! Don't hesitate and contact Arrow Electric Today.
LIFETIME WARRANTY ON ELECTRICAL PANEL INSTALLATIONS
As experts in installing electric panels, we know your home is a big investment. It's important for you, as a homeowner, to keep it safe. For this reason, our team uses top-notch Eaton/Cutler and Hammer products, with a focus on installing and replacing electric panels and upgrading services. Additionally, all of our home panel changes come with a lifetime warranty for your peace of mind. Along with our dedication to keeping our customers happy throughout every step of the process, we also put a strong focus on your safety. From doing safety checks, finding possible risks, and providing recommendations and advice, our team is here to keep your home safe and ensure that your electrical system is operation at peak performance. As we work on your installation or upgrade, we'll keep you in the loop to create a seamless experience from start to finish.
Furthermore, our dedication to excellent service continues even after the job is complete. By providing ongoing help and support, we strive to build long-lasting connections with our clients. So, whether you need regular check-ups, fast fixes in emergencies, or tips on making your home more energy-efficient, count on Arrow Electric, Inc. We are here to be your long-term and dependable partner in keeping your home's electrical system safe and efficient. With our commitment and expertise, you can trust that your investment is in good hands.
Call now for electrical panel installation
CONTACT OUR RESIDENTIAL ELECTRICIAN FOR EMERGENCY SERVICES
Allow Arrow Electric to keep your home safe! Contact our residential electrician for major electrical problems like power outages, burning wires, tripping breakers, or electrical panel distributing heat. Above all, in these situations, rest assured that our 24/7 electrical contractor is ready to handle emergencies on your electrical panel. Furthermore, not only do we offer repairs and installations, but we also provide a lifetime warranty on select electrical panel brands for added peace of mind. As a result, you can trust that Arrow Electric is the right choice for the job.