Electrical Panel Replacement
Arrow Electric Panel Replacement
At Arrow Electric, we understand the importance of a reliable and efficient electrical system for your home or business. That's why we specialize in providing top-notch electrical panel replacement services, ensuring the heart of your electrical system operates at its best. We are the experts you can trust to get the job done right the first time when it comes to electrical panel replacements.

Our highly skilled and experienced electricians are well-versed in the complexities of electrical panel systems. They are well-equipped to handle any panel replacement, regardless of age or brand. As the power demand continues to grow in today's technology-driven world, it is essential to have a properly functioning electrical panel to meet your energy needs and keep your property safe.
At Arrow Electric, we take the time to assess your current electrical panel and recommend a suitable replacement based on your specific requirements. Our comprehensive electrical panel replacement process includes the following:
Removing the old panel.

Installing a new, high-quality panel.

Ensuring all connections are safe and secure.

Check breakers tighten and replace old breakers.

Surge Protection

Proper Grounding
We also perform a thorough inspection to guarantee the new panel meets all safety standards and codes, providing peace of mind knowing that your electrical system is in good hands.
Not only do we deliver exceptional service and craftsmanship, but we also prioritize customer satisfaction. We are committed to working closely with you throughout the panel replacement process, keeping you informed, and addressing any concerns. By choosing Arrow Electric for your electrical panel replacement needs, you can rest assured that you are investing in a professional and reliable solution for all your needs, residential or commercial.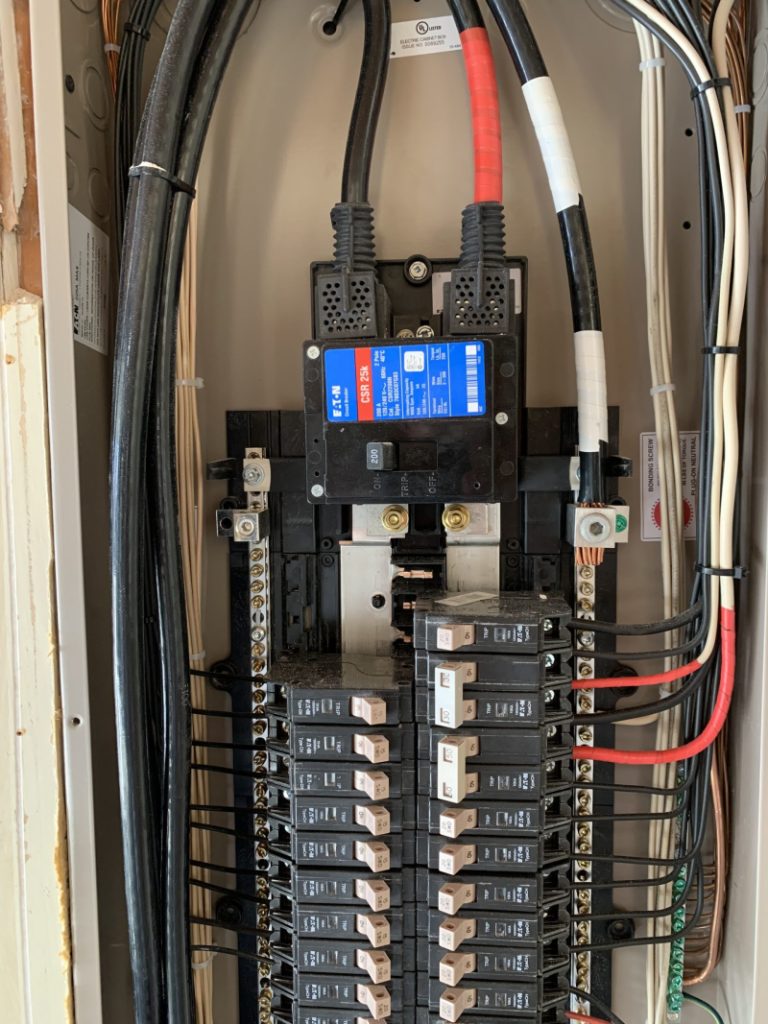 Free Panel Estimates Good for 90 days
Arrow Electric understands the importance of providing our clients with transparent, accurate, and affordable solutions for their electrical needs. That's why we proudly offer free panel estimates for 90 days, allowing you ample time to decide about your electrical panel replacement. Our team of experts will thoroughly assess your current panel, discuss your requirements, and provide you with a detailed and competitive quote tailored to your specific needs.
In addition to our free estimates, we stand behind our work with a 100% satisfaction guarantee. We're committed to ensuring your electrical panel replacement meets the highest standards. We will consider the job complete once you're satisfied with the results. Our dedication to customer satisfaction and our competitive pricing sets us apart from other electrical service providers.
Choose Arrow Electric for your panel replacement needs, and experience the peace of mind that comes with working with a company that values your trust and satisfaction above all else.
ELECTRICAL PANEL INSTALLATION FOR DALLAS-FORT WORTH
Replacing an electrical panel is important for maintaining the safety and efficiency of your home or business. Arrow Electric is your trusted partner for a seamless panel replacement experience. An outdated or damaged electrical panel can pose serious risks, such as electrical fires, power surges, or insufficient power distribution, leading to costly repairs and potential harm to your property and its occupants.
Upgrading your electrical panel not only ensures that your property remains safe and compliant with current safety standards and codes but also enhances your electrical system's overall efficiency. A new panel can handle the increased power demands of modern appliances and electronic devices, preventing overloaded circuits and reducing the likelihood of unexpected power outages.
Furthermore, a timely panel replacement can lead to long-term energy savings, as newer panels operate more efficiently than their older counterparts. This increased efficiency translates to reduced energy consumption, lower utility bills, and a smaller carbon footprint for your property.
When you trust Arrow Electric with your panel replacement needs, you invest in a team of experienced professionals who prioritize your safety and satisfaction. Our skilled electricians will assess your current electrical panel, recommend a suitable replacement, and complete the installation meticulously. By choosing Arrow Electric, you can rest assured that your new electrical panel will meet all safety standards and codes, providing you with peace of mind and a more reliable electrical system for years.
In conclusion, replacing an electrical panel is vital in ensuring the safety, efficiency, and longevity of your property's electrical system. Arrow Electric is dedicated to providing you with the highest quality panel replacement services, delivering the expertise and customer care you deserve.